Dear Guests,
Warm Greetings from the Port-O-Call Hotel. We hope you enjoyed your summer, even though it was different than years past.

Our top priority is to provide a best-in-class, 5-star experience. It is with heartfelt gratitude that we say "thank you" for placing your trust in us during this unprecedented time. Our focus is to ensure that you feel comfortable during your stay. It's rewarding to know we have succeeded in our mission, based on the abundance of positive reviews received.

This year's closing is bitter-sweet. We will temporarily close on October 30th to get started on exciting enhancements you'll enjoy as we reopen in the spring of 2021. We can't wait to welcome you back. You are sure to be wowed!

Though the hotel will be closed, there are two easy ways to make reservations for the upcoming 2021 season. You can call us directly at 800-334-4546, where our reservations team will be available Monday through Friday from 9am – 5pm or you can make reservations on this website.

Follow us on Facebook and Instagram or check out our website for news, specials, and our future events happening at the Port-O-Call Hotel – your shore home away from home.

Again, thank you! We always enjoy being part of your memories that will last a lifetime.

Make Memories That Last
Port-O-Call has been an idyllic family vacation resort noted for its excellent service and fine surroundings. Our luxury hotel is located in the heart of Ocean City, New Jersey overlooking the Ocean City Boardwalk, beach and the Atlantic Ocean. Inside the Port-O-Call, you'll find a remarkable, friendly ambiance.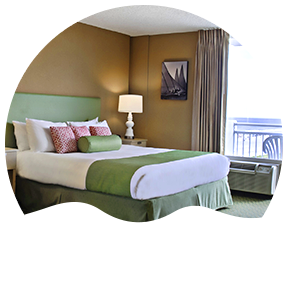 From Standard Bay to Penthouse, all hotel guests enjoy high speed WiFi, Keurig® Coffee Brewers, 32″ flat screen HDTVs, mini fridges and more!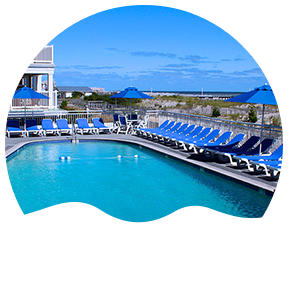 Whether it's a couples getaway or a family vacation, there's plenty to offer: outdoor pool, spa service, fitness rooms, area playgrounds and more.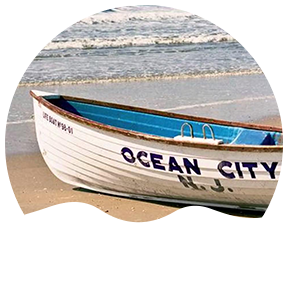 America's greatest family resort, Ocean City, NJ is a world famous seashore community and family resort located in the heart of the Jersey Shore.
Pack Your Bags
Before you book your trip, check out these special seasonal vacation packages and save!

J'Covan K.
10:33 31 Oct 20
So glad Port of Call reopened during COVID. They are observing the pandemic by offering outdoor seating at picnic tables and takeout orders only. I opted for takeout, called prior to arriving, and my meal was ready within 15 minutes. My cheeseburger was fantastic, juicy and flavorful. The baked potato was loaded and enough for two. Together these made two and half meals at home. Left a hefty tip and was on my way in mere minutes. The cheeseburger comes with all fixins (lettuce, tomato, onion, pickle) on the side. I requested the potato loaded w/ butter. Sour cream, chives, bacon bits and mushrooms.

Great location. Very well appointed rooms. Great management team.

A favorite place of my family for years! Grandparents, parents and my kids ! My parents came down here so much, management gave them a free upgrade to the penthouse once!! Great memories here!! Stay here and you won't be disappointed!!